The ombré finish is making waves in home décor, furnishings, and surprisingly, even hairstyles. If this is your first time hearing about it, perhaps a little description maybe in order: In the paint world, an ombré effect is typically a wall containing three or more shades of color where the wall seems to get darker from ceiling to floor (or from floor to ceiling, if you wish). You can request Albuquerque commercial painting contractors to make the colors 'bleed' into each other from light to dark, or you can have them provide a clear line dividing the shades.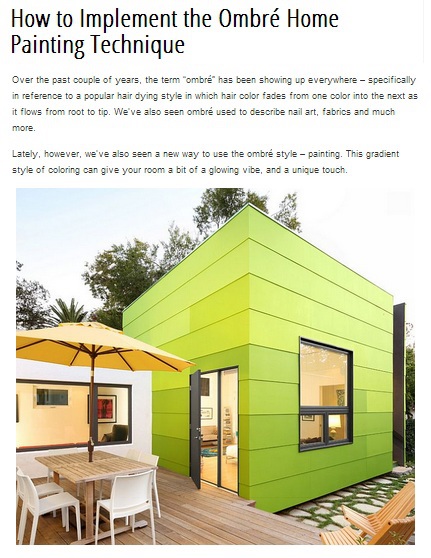 Decoist.com offers these tips on how to achieve the ombré effect properly:
"Choose colors that are somewhat similar. Fading from dark blue into orange may not be the most effective ombré look – in fact, that would look downright outrageous. Instead, choose two variations of one color. For example, fading from a soft mint into a medium teal can be a great addition to your bathroom, and light taupe into chocolate brown in a cozy living room or bedroom. Often multi-shade paint swatches offer a great example of how to transition colors effectively.
Fade from the top down or from the bottom up. However, don't fade toward the middle. The reason for this is because fading towards the middle will shrink the room. It also has a tendency to look tacky and unpleasant."
Adding a fresh-looking paint design on your property walls can go a long way toward a vibrant atmosphere. With a new paint job courtesy of trusted NM commercial painting contractors like JTC, Inc., you can change the way your walls look to match what you have in mind.
(Source: How to Implement the Ombré Home Painting Technique, Decoist)