People on the daily grind in New Mexico's Duke City commercial establishments are typically indoors for about eight hours a day, making their health a primary concern of efficient facilities management. Volatile organic compounds or VOCs that may be circulating around an enclosed space makes indoor pollution a serious threat to the health of your employees, so hiring reliable Albuquerque industrial painting professionals is one of the best ways you could help maintain the productivity and the well-being of your staff.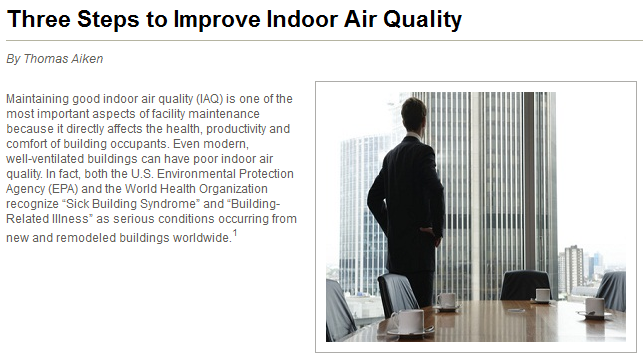 What VOCs Are
Volatile organic compounds are carbon-based chemicals that easily evaporate at room temperature, and while many of these can be easily detected and thus avoided, some are in fact odorless and practically undetectable. The most common VOCs include acetone, benzene, formaldehyde, toluene, xylene, and methylene chloride. If it remains undetected, VOC levels in the body could eventually reach hazardous amounts.
Sources of VOCs
VOCs can enter an enclosed space right at the very moment the building or room is constructed, since many building materials like solvents, adhesive products, and even some industrial paints give off these harmful chemicals. Other sources may include upholstery fabric, vinyl flooring, varnishes, certain cleaning and disinfecting chemicals, and even the air freshener hanging on your AC unit.
Controlling Air Pollution
One of the most efficient ways to prevent VOCs from endangering the health and lives of your employees is to implement a strong source control protocol. Here are some tips from an article in BUILDINGS, written by Thomas Aiken:
When it comes to IAQ [indoor air quality], prevention is a key factor. […] Fortunately, many VOC sources such as dusty carpet, old furniture and flaking paint are easy to remove. Other sources may not be as simple to replace, but are just as important to evaluate. For example, particle board, a common building material, can contain formaldehyde, which is a known carcinogen.

When renovations are necessary, facility managers can help ensure the well being of a building's occupants by selecting low-VOC paints, flooring, wall/ceiling systems and wood products, especially now that these items are more readily available. The EPA recommends using IAQ-safe products that are non-toxic and not prone to moisture damage or mold growth. It's also important to ensure that a building's janitorial service uses third party-certified environmentally-friendly cleaning products […].
If you want to find good sources of low VOC industrial paints, look into companies like JTC Coatings Inc. It's also important to use technologies like chemical resistant industrial floors. Overall, even if you don't end up having the cleanest or greenest building in Albuquerque, it's still a wise move to invest in indoor air pollution prevention and VOC control technologies like efficient and eco-friendly Albuquerque industrial painting solutions.
(Source: Three Steps to Improve Indoor Air Quality, BUILDINGS)
Jan 3, 2015 – 0.01 cream Discount Online Pharmacy. Save Your Money With Cheap Generic Drugs – estrace from mexico > Discount online