A hangar's floor practically begs for easy maintenance and premium safety conditions for the aircraft inside. In some cases, however, owners like you may want that floor repainted or replaced. eHow contributor Trish Jackson writes: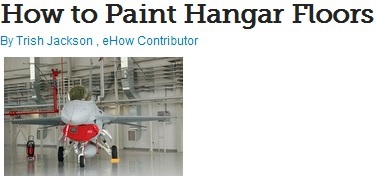 "Concrete forms the base of most airplane hangar floors. Finishing the concrete with a reflective resin coating covered with polyurethane is an appealing option. The coating comes in a variety of shades and effects, is non-slip and its reflective nature helps to maximize the hangar lighting. A professional flooring contractor will have the tools to do the job quickly…"
The wide expanse of New Mexico may provide opportunities for building private airfields or aviation facilities, as well as refurbishing abandoned ones that have not been converted for non-aviation purposes. Albuquerque has a number of privately-owned hangars, foremost being the one maintained by retired IndyCar driver Bobby Unser. If you operate your own small airfield with a hangar that deserves a makeover, professionals at industrial painting in Albuquerque like the team at JTC Inc. will find ways to make it work.
Concrete may be the most common foundation material for hangar floors, but a visual inspection of the entire surface will be needed to further assess the scope of the project. Old hangars may have flayed floor coatings and paint. Jackson says diamond grinders will smoothen the floor surface and prepare it for the painting.
Some industrial painting contractors recommend that the hangar floor's concrete slab must not have air compression before the first drop of primer touches the surface. Consult your painting team regarding a 24-hour pressure test on the slab; the object is to determine if the moisture level on the slab is under three pounds per 1,000 square feet. The minimal moisture will help the primer seep into the slab's pores and form a mechanical bond.
Allow time for the primer to dry before the painting team can proceed with the initial coating. Jackson says that the epoxy paint should be evenly applied; any drains in the area must be cleared of blockages by simply hand-painting the edges. A second coat after another long drying period may suffice; however, the final coat must have traction support capability.
A new floor will help amplify the lighting coverage inside the hangar. What better way to see that through than with a reputable Albuquerque industrial painting company like JTC?
(Source: Concrete forms the base of most airplane hangar floors, eHow)

.